Education
The HOPE not hate team provide speakers to schools and colleges on all the issues we are involved in. Please contact us on [email protected] to find out more.
Teacher? Attend one of our FREE training days this August on inequality, power and discrimination click here
PROFILE: Owen Jones – Challenging the rising hate in schools
posted by: Safya Khan-Ruf | on: Thursday, 18 May 2017, 10:56
---
With hate incidents rising, there's a huge demand for HOPE not hate's education workshops in British schools
Banter is not just banter and racist jokes are not okay.
These are some of the issues that Owen Jones discusses with students everyday across the country. At a time when hate incidents in schools are rocketing (according to one recent survey), the head of education for HOPE not hate travels the length and breadth of the UK to teach young people about day-to-day prejudice, discriminatory language, signs of radicalisation and to discuss society's shared values.
Discussing discrimination
Jones uses a variety of techniques in his classes to keep students' attention. The workshops – usually taught to sets of 11 – 15-year-olds – combine games and discussions to explore topics such as inequality, explaining that it often starts at birth and can become 'embedded' within (parts of) society.
"We challenge the class on how they could – even unwittingly – be contributing to these inequalities and prejudices without realising," Jones says.
He adds that student replies allow him to tailor how he presents the workshop and how far he challenges issues. In one Year 7 class at King Harold Academy in Essex, students were torn on whether a discriminatory joke was fine "just between friends". However, a Year 10 class receiving the workshop on the same day were unanimous in calling that joke unacceptable: "It's just wrong," one student shrugged.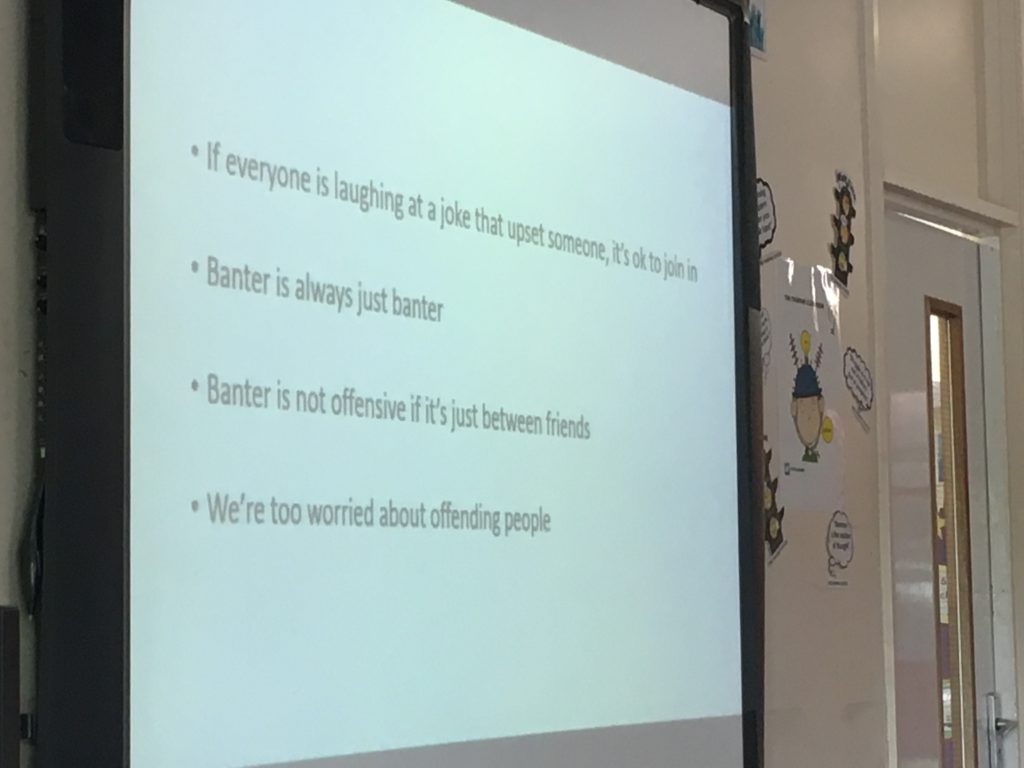 Jones, also from Essex, says the areas he works in really impact the discussions he has with students.
"I'm less likely to have problems with racism in schools around cities but homophobia might still be a big problem there."
In many isolated areas, people "view the outside world through the television," according to Jones, which can exacerbate some prejudices while reducing others.
The examples he employs to tackle these issues often elicit strong responses. He uses topics close to students' hearts, such as football, to ask why people use a phrase such as "you throw like a girl".
Jones' Socratic method of questioning for football led to a spirited discussion at the King Harold Academy, with one young girl demanding to know why "women got paid less in football when they can play just as well as men".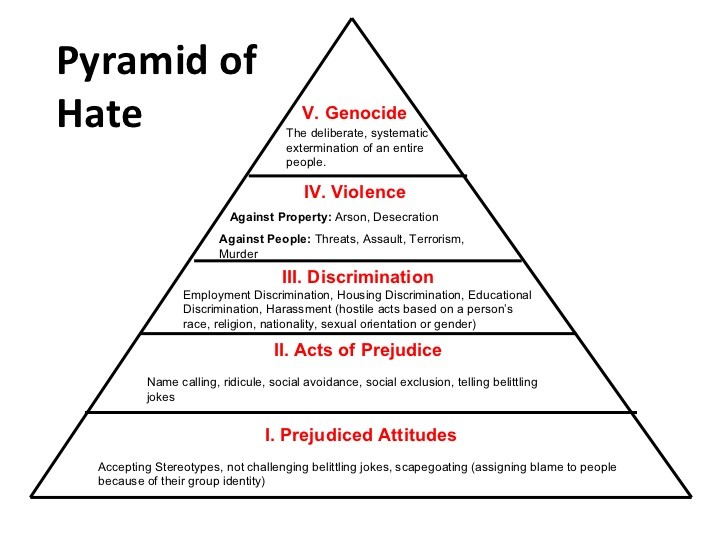 Using the Pyramid of Hate (above), Jones teaches how certain phrases reinforce stereotypes and normalise prejudice. The students are encouraged to stop using discriminatory language but also to challenge their friends to do the same.
Complex challenge
HOPE not hate has been working with young people for many years, but its education workshops officially began last January and have received an 80% score on the net promoter, a management tool to gauge satisfaction.
In addition to teaching students, Jones' team also trains teachers in tackling these subjects themselves and spotting fake news. Teacher-focused workshops cover the British far right, how to approach students who might have been in contact with the far right online, and recognising signs of radicalisation. Jones says most teachers are eager to learn but that some in rural areas might see the issues as less pressing.
The education team are very careful not to debate politics in the workshops. "We're trying not to look like a PC brigade," Jones explains wryly.
Staying away from politics is especially important to Jones, as his focus is on tackling discrimination, rather than (for example) debating Brexit in areas with bitterly different political views.
His balancing act in addressing sensitive topics is complicated by some parents' politics and casual hate speech students can hear at home. "We're not just dealing with students, it's also coming from parents," he says.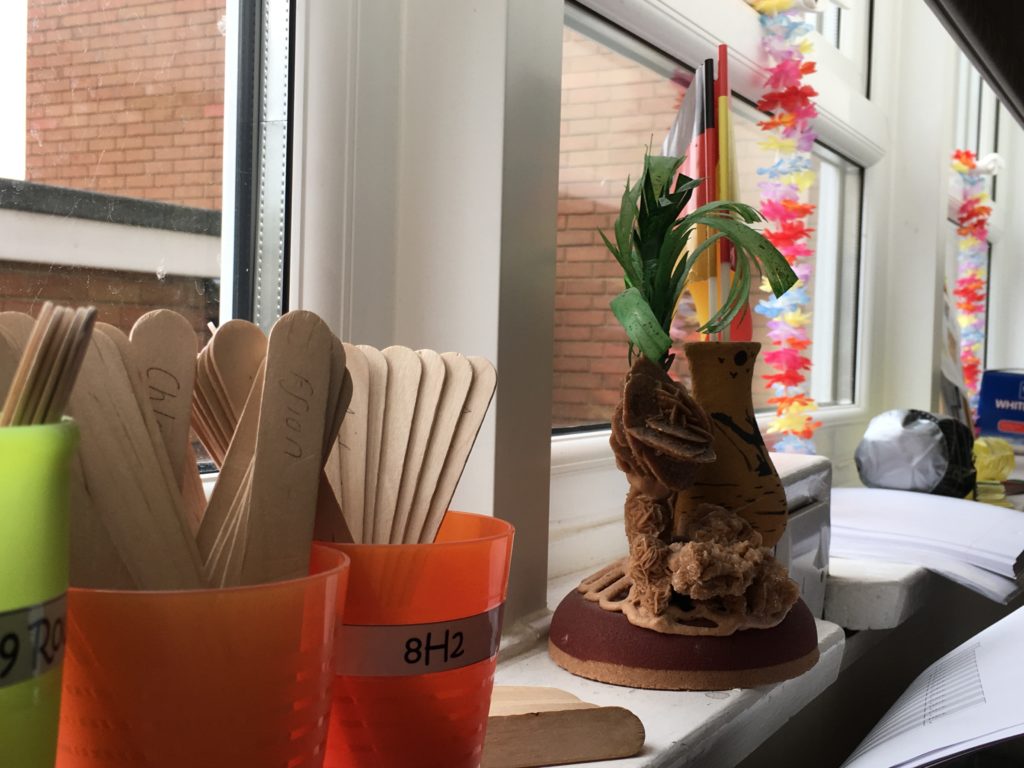 Rising issue
Despite the challenges, Jones is determined to sensitise children to prejudice and discrimination before it's too late. Hate crimes in classrooms have risen sharply across England according to police figures.
Data obtained by the Times Educational Supplement from 30 police forces under Freedom of Information laws revealed that hate incidents increased by 89% in May 2016 compared to May 2015.
There have also been warnings of rising bigoted behaviour among pupils by the National Union of Teachers and Association of Teachers and Lecturers (ATL) last month.
A survey of ATL members showed that more than 20% of teachers had noticed hate crime or hate speech incidents during the past academic year and 17% believed it was a growing trend among students.
Some have attributed the rise of hate incidents in schools to the normalisation of racist speech by politicians during the EU referendum and Donald Trump's election.
Jones does not seem daunted by these issues. In fact, he says that there's a big demand for the workshops and sensitising students to these issues has to happen as early and fast as possible.
"We know this is vital work and very relevant to the pressures of our times. We're funded until the end of this year, but are hoping we can extend that and take the project forwards to its true potential."
To find out more about HOPE not hate's education work, or to book Jones' team, email [email protected]
The Cultural Exchange
The lack of opportunities to experience or get involved with different cultures can often breed serious ignorance, which can lead to harmful prejudice if left unchecked. HOPE not hate is all too aware of this and was delighted to be able to team up with Ringwood School in Hampshire to get involved with their Cultural Exchange ... read more
---
New Education team helps schools challenge prejudice and understand far-right signs and threats
posted by: Owen Jones | on: Friday, 3 March 2017, 18:01
Young people have more inclusive views than ever, but can still struggle with understanding prejudice and inequality; schools also need to understand the threat posed by the far right – part of the challenges being met by our new Education team.
Since the hate crime spike witnessed after last summer's Referendum, HOPE not hate has witnessed an unprecedented demand to speak to young people in schools and their teachers about the challenges of racism and the need to promote more inclusive environments.
Starting with pilot testing last year, this year we've begun delivering workshops and talks to schools around the country – all free of charge, thanks to a generous grant.
Our research shows that young people have more inclusive views than ever, and embrace multiculturalism much for enthusiastically than previous generations. Which is great news. But our work is still cut out for us, and the anti-racism (and other -isms) message needs to up its game with young people.
Racism/sexism/homophobia are all 'bad' and young people know that. But aside from these core themes, do they really understand what prejudice means on a day-to-day level? Do they understand the use of lazy language, how inequality often starts from birth, and that there are other embedded historical structures in society that prevent genuine equality between genders, ethnic groups and other minorities struggling for holistic acceptance in today's Britain?
Could they even (unwittingly) be contributing to these inequalities or prejudice without realising…?
These are the issues and lessons we debate in schools today and we're keen to have those debates – with a certain degree of urgency, too.
First conference
During the Spring half-term a room full of education professionals met in central London from the across the country for the launch of our brand new education programme, looking to address those issues above, as well as hear our expertise on dealing with stereotypes and educating around the far right.
The group was presented with HOPE not hate's vision for the project – a three-layered programme covering harmful language, far-right awareness and teacher training – as well as our plan of taking our skills from community organising right into the classroom, offering schools a very different experience to other charities in this sector.
It was wonderful to be able to tap into the huge amount of high-class experience in the room, to help us tailor the programmes and messaging to be as useful to schools as possible across the different educational key stages. This was followed by a fascinating debate about the differing nature the nature of the problems and threats faced around the country.
We are now proud to have an advisory board chaired by an Ofsted-rated educational specialist (and long-term HOPE not hate volunteer), which will help us keep up-to-date with what is occurring in British classrooms and ensure that we continue to tailor and improve our offerings to the educational sector.
Our future plans include "Train the Trainer" classes for teachers around the country and further developing our work with sport, to making it as engaging as we can for students with different learning styles.
Owen Jones is Head of Education at HOPE not hate
If you're a teacher or educational specialist interested in learning more about our Education team's work, please contact us: [email protected]
---
Harlow Gets Serious on Discriminatory Language
In November 2015 in the Essex town of Harlow, HOPE not hate carried out one of it's largest regional training events to date, training just over 500 employees of the Essex County Council/Burnt Mill Trust in twelve 45 minute back-to-back sessions, in order to cut down the size of the groups so that each session could be as interactive as possible.
Built in 1955, Harlow is one of Essex's two New Town developments designed to rehouse blitzed London families after the Second World War, a legacy that still remains with the town having the third-highest proportion of social housing in England. Harlow has come on a long way since the 1950s and now boasts major transport links to London via the Stansted Express and M11, which has attracted new industry and workers looking to live outside of the city; along with this has been a change in the social demographics of the town.
Although the demographics are changing, certain attitudes have been slow to keep up, and HOPE not hate was brought in to start a serious dialogue with the local educational sector as it was feared that discriminatory language was being passed down the generations and affecting the community and local school environment.
Working within the town, HOPE not hate was quickly aware of many people from the town, who although not racist themselves, were certainly confused about what are considered racist terms, largely through a lack of understanding and right-wing media slamming the overuse of "PC" terms.
During the day, HOPE not hate very successful created a safe space, where people could feel encouraged to air their opinions and confusions. For the first time in many of these peoples' lives we were able to have a frank discussion about the impact and consequences of "casual" racism so that they could have a clear understanding of the damage it does on the community rather than just being told it is wrong. Finally, each session summed up with a discussion about how language can reinforce oppression on an individual level.
Teri-Leigh, an English & Media teacher commented that "the training made the participants really think about the impact of language; most of us are conscious of the impact of our words so choose them carefully, but how you can change until you change until you really understand what is acceptable?&lrquo;
This was just a start of the discussion in Harlow. We are already in talks with the Burnt Mill group about two more events to further develop understanding about discrimination.
---